Just a 2-hour drive from Hokitika or 3-hour drive from Wanaka, Fox Glacier is a nature lover's paradise.
You'll find the pace of life a little slower here, so take your time, explore at a leisurely pace and soak in those expansive views. Aoraki Mt Cook provides a stunning backdrop for an outdoor adventure or a peaceful getaway.
Mt Cook View Motel lies in a beautiful rural setting with Lake Matheson just a 3-minute drive or half-hour walk away. Be sure to bring your camera and experience this scenic spot at sunrise AND sunset. If you fancy an evening meal out or even just a few drinks, a 3-minute drive or half-hour stroll in the opposite direction will see you in the heart of Fox Glacier township.
We're happy to talk you through the many amazing experiences you'll find nearby. Here are some of our favourites.
There are few places in the world where you will find glaciers nestled between rainforest and the sea, yet New Zealand boasts many. The most well-known are Fox Glacier and Franz Josef.
Set just half an hour's drive apart, they offer a unique opportunity to view a rapidly retreating geographic phenomenon–global warming has seen the ice sheet shrink dramatically in recent decades. Fox Glacier is the longer of the two.
Descending over 2600 metres along its 13-kilometre length. It's an impressive sight and one not to be missed.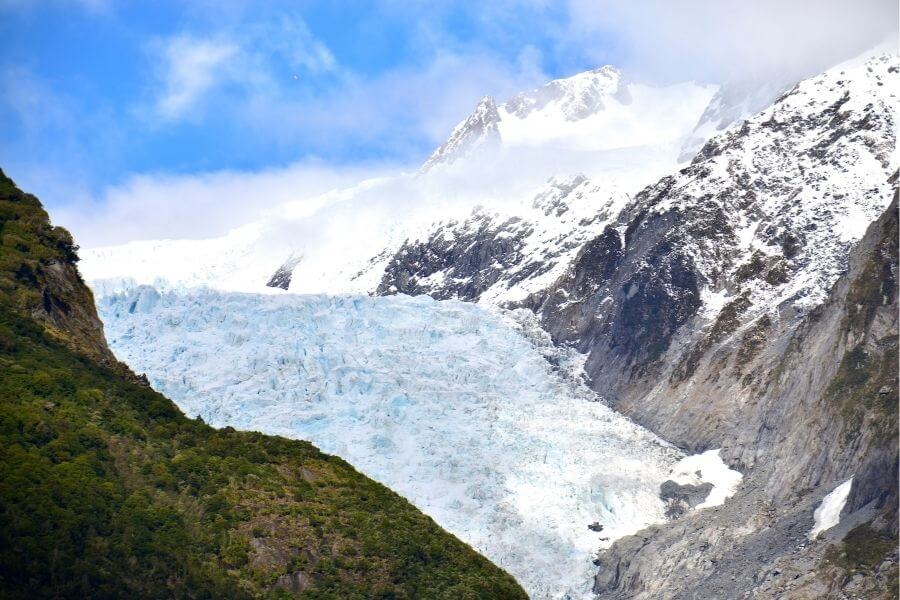 Fox Glacier scenic
helicopter flights
One of the best ways to appreciate the beauty of Glacier Country is to hop on a helicopter flight. Choose between a journey over or onto the glacier.
View this vast ice sheet from above, opt for a snow landing or try heli-hiking, a popular activity that puts you in the midst of the jaw-dropping scenery.
Whichever you prefer, we can advise you on the best operators and help you book your ideal tour.
Photographers flock to Lake Matheson to capture the mirror-like reflections of Aoraki/Mt Cook and Mt Tasman in its still waters.
A wheelchair-accessible walk to the jetty viewpoint takes just 40 minutes return, giving you ample time to stand and stare in wonder. Alternatively, see the lake from every angle on the 2.6-kilometre lake circuit.
It takes an hour and a half, but we'd allow extra time to drink in the views.
Walks & Trails
If you want to be active and explore the area, lace up your boots and go hiking/tramping on one of these stunning trails.
For more information on things to do visit the Glacier Country tourism website